Aldus Rootsville @Freddy Vandervelpen met foto en mooi review over de dubbel cd LIVE AT THE THEATRE vol2.
http://www.rootsville.eu/…/repo…/ralph%20de%20jongh%202.html
Ralph de Jongh (NL)
tiltle: Live @ The Theatre (Vol. 2)
music: Blues & Dirty Rock 'n Roll
release date: 2020
label: Ralph de Jongh Recordings
info artist: Ralph de Jongh© Rootsville 2020
Zoals we reeds kwamen te vermelden in de recensie van "The Whole World Inside Vol.1: #Misic#You Better#Music" is er bij Ralph de Jongh bij "1" ook steeds sprake van "2" en nu bij deze zelfs ook bij "3". Deze dubbel Live" opname is toch dan ook weer volume 2 van de recordings die werden opgenomen in het theater "Beresteyn" in Veendam. This is dirty rock 'n roll en daarmee zet Ralph hier weerom een statement neer.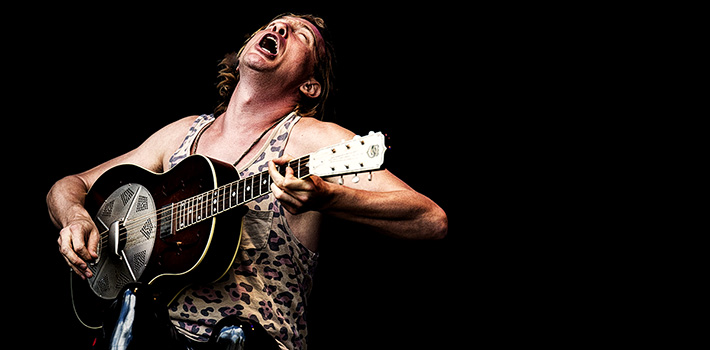 photo Ralph de Jongh © Rootsville
"Live" en met band en dat is toch steeds weer een andere beleving van deze Ralph de Jongh waarbij steeds ook weer de vergelijking tot stand komt met die andere eeuwig jong blijvende rocker, een DNA dat ook bij deze Nederlander valt te bespeuren. Ook op dit eerste deel van deze "Live @ The Theatre" is het een heropleving van de rock 'n roll al dan niet met de eigenschap van een live improvisatie. En ja, he feels bad in this rock 'n roll!
"I Play A Dirty Rock 'n Roll" kan je ook aanzien als een rollercoasters van emoties die je moeiteloos komen mee te nemen in zijn wereld met bluesy eigenschappen maar waarbij rock 'n roll steeds in de spotlights blijft te staan. Full steam ahead met nummers als "Boy, Boy, Boy, It's A Slow Turtle Sundance" en " I Came Dressed In Rock And Roll" maar ook met enige ruimte voor een cool downzoals met "Waist Deep". Afsluiten doet dit eerste gedeelte met "Come On, Baby" en op gevaar om de boel ook hier privé op stelten te zetten steken we dan ook het tweede schijfje in de speler…
Met als ondertitel "Back To The Valley Of Love" komen we dan terecht bij een Ralph de Jongh die zich hierbij transformeert tot een vat van gevoelige emoties. Gaande van "Snow On A Hook" over "I'm A Fool" tot het door funk geïnspireerde "I Walk The Line" kom je tijdens dit tweede gedeelte in een hele andere wereld, maar toch ook met diezelfde diepe beleving, eigen aan Ralph de Jongh. Na het diep intense "Valley Of Love" verschijnt er met "Light Of My Love" dan toch ook weer die dirty rock 'n roll om de hoek.
tracks:
Boy, Boy, Boy, It's A Slow Turtle Sundance (Live) (14:14)
I Came Dressed In Rock And Roll (Live) (8:24)
Message (Live) (5:10)
It Takes A Lot Of Courage (Live) (5:42)
Good Morning Woman (Live) (6:40)
Waist Deep (Live) (4:56)
Life Is Like A Rattlesnake (Live) (7:02)
Harry (Live) (10:40)
With All The Boys And Girls (Live) (5:54)
Come On, Baby (10:16)
Snow On A Hook (6:47)
I'm A Fool (Live) (9:40)
A Last Goodbye (Live) (12:50)
We All May Shine (7:08)
Walk The Line (7:04)
Dreams Are Made Of (11:02)
Valley Of Love (7:44)
Light Of My Love (Live) (7:34)
Say Goodbye To The Burden Of Man Funk (9:35)