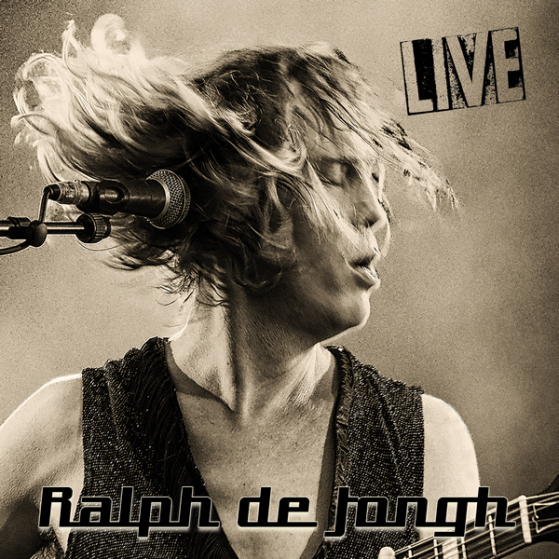 LIVE
"Still A Fool" as opener of cd one is manifesting Ralph's excellence as singer/songwriter. Superb slow blues-ballad, with utmost perceptive chant. "Shout Myself Back Together" & "Last Goodbye" express the many musical faces and affectations of mister DeJongh. He is by these songs in the mood for some hot funky dance grooves. "Highway Man", his kind of autobiographical song as he still loves to be on the road is a classic rocker with a boogie notch in the vein of the "Glimmer Twins"… "Blond Boy" makes you dance to the funky cadences the NOLA (New Orleans) style. By "Breakfast Served" Ralph and band-mates are blues'n boogie rockin' for your demoniac pleasure. A hotter than hell jam is celebrated. This is definitely a live song-cracker to turn any venue into a tollhouse. "Misty Train" is a wonderful , enchanting delta-blues. Ralph is the six-string therapist on slide guitar and his suffrage is to hoodoo. "Let The tears Surface" is the final title of cd 1 concluding it the calm, perceptive style. "Fine Man" is to whoop it up by its blues-rockin' variety in the reminiscence to the good ole Blues Brothers. "Everywhere" is an enchanting swampy voodoo- blues the Louisiana style. Ralph is singing utmost bewitching to keep the LOUP-Garou away from any souls. By "All The Sweet Love" the rhythm duo by Rogier Hemmes on bass and Arie Verhaar on drums is funkin' it up again. In contrary and as climax there is on top the laidback slide-guitar extravagance. "Life Is like A River" is a shiny country blues-rocker featuring a hellish hot blues harp virtuosity. "Hurrying By" is a starry, most magical ballad. Ralph's voice is ever so ghostly-beautiful. "Burden Of Man Funk" starts by a thunderous drum-twirl-solo by Arie followed by bass-grooves by Rogier and on top sax-fervidity by Arend Bouwmeester. Ralph is getting' funky and wild by his vocals and axe-attacks. The spirit of James Brown" was definitely in da live house! "Last Salute" is a soulful rocker as final song of cd two.
Ralph De Jongh – The Lowland Blonde With His Clogs Goin' Strong & Wild At His Best
Hey music-freaks & maniacs, X-MAS daredevils, Lord of The Pandemonium, you absolutely need all 3 cd's as gift for yourself & your beloved!!!
Order them immediately by clicking on this line:
No Nitemare Before X-Mas, Just Pure Music Merry Christmas Joy