When Ralph deJongh met Ewa Pepper this was musical love at first sight. Their congenial creativity, virtuosity on guitars and violins got intensified by numerous duo- gigs and here is the first studio-magnificence eternalized on double-cd "Breath Of Life"!
By "A Better Not A Bitter Man" as starter of cd one Ralph is the personal storyteller. He has experienced by his specially daily hard work life the bad and ugly side of it, but by his always positive vibrations he is always tries to take the bright side out of life and works hard to have a smile for everyone again. His chant is melancholic and his acoustical six-string magic is absolutely to charm. Ewa is contributing some marvelous violin solos. She can be entitled the fiddle fairy-queen to lighten up every day! By "Throw Out The Bottles" & "BE" Ralph and Ewa spread climax- happiness, hell of luminous country-blues featuring on top guitar and wild violin sorcery. By "Yogi Bear" Ralph is telling his impersonator-tale of managing good and bad daily situations. "Stars In The Sun" is the "Over The Rainbow" Highlight of the first cd, first by the shiny fiddle-intro, second by Ralph's ever so soulful chant and sensitive fingerpickin' guitar-melodies. A Serenade to remind you to enjoy every little moment of life and even tiniest beautifications, like flowers, animals and off course your lovely ones… "Good Night Girl" is definitely his ode to his lovely Moon Anderson as conclusion of the first cd. By "Feel Me" as beautiful ballad as opener of cd two Ralph continues his storytelling by his warm-hearted chant and EWA is again the extraordinary fiddle-queenie.
By "Keeper Of The Key" Ralph and Ewa affectionately intend to make your day bright and shiny by the melodies. "Harry" & "Love Is Not A Friend" shine as culmination songs on cd two by the Spanish Guitar- and classical violin-magic. Ralph's voice is sensitive and mystical by it…
Maestro DeJongh bids farewell by song-interpretation as virgin-like "Man" on cd-two, haha… He is already on cloud number nine being aware that on 16th of December he will get happily married to beautiful Moon Anderson @ iconic Vanslag in Borger!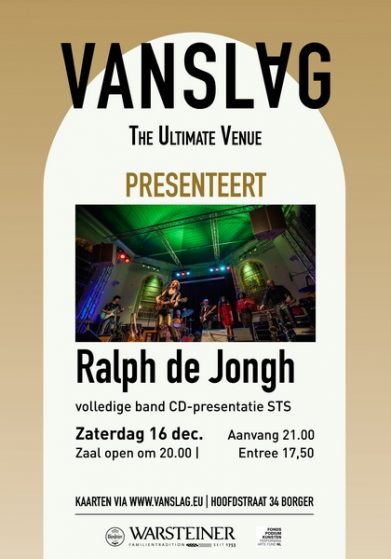 Ralph de Jongh & Ewa Pepper – "Breath Of Life" – Magnificent Grand Stories- & Melodies-Celebrations Of Daily & Nightly Life *****